UPDATED March 29, 2000
NORTH CAROLINA STATE UNIVERSITY
A FAN PAGE
This is a fan site dedicated to the North Carolina State University Women's Tennis Team. This site is not affiliated with NC State University.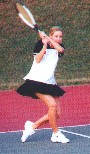 Francie Barragan
Click above to visit my Francie Barragan page

Here you will find the following and more:
Wolfpack Match Results
Web Sites of Wolfpack Opponents
Weather Forecasts for Upcoming Matches
1999-2000 Wolfpack Roster
1999-2000 Wolfpack Schedule
National Rankings of ACC Schools
Individual Player Records
ACC Team Records
I hope you enjoy this site. Go State!
NC STATE VS RICHMOND
NC State will travel to Richmond on April 1st to play the Spiders. Click on the link to visit the Richmond tennis web site.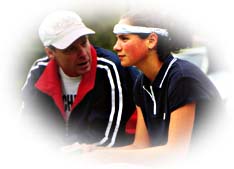 The weather conditions in Richmond are presented below.
NC STATE VS OLD DOMINION
The Wolfpack face a dangerous Old Dominion team on April 2nd. Click here or below to visit the Old Dominion tennis web site. Go Wolfpack!

NC STATE VS NORTH CAROLINA
At the time this page was update no results were available on the Wolpack-UNC match. Check back soon for an update!
NC STATE 1, FLORIDA STATE 8
NC State lost is now 4-8 after an 8-1 loss to 20th ranked Florida State. The results are listed below.

Florida State 8, NC State 1

Singles

# 1: Alida Gallovits (FSU) d. Loni Worsley (NCS), 6-0, 6-2
# 2: Nanette Duxin (FSU) d. Francie Barragan (NCS), 6-4, 6-0
# 3: Jessica Balbuena (FSU) d. Brie Glover (NCS), 6-3, 4-6, 6-2
# 4: Kia Asberg (FSU) d. Kristen Nicholls (NCS), 6-0, 6-1
#5:  Myrna Bawono (NCS) d. Marina Raic (FSU), 7-6, 7-5
#6:  Ali Weber (FSU) d. Landis Strader (NCS), 6-1, 6-0 

Doubles

#1: Gallovits-Duxin (FSU) d. Bawono-Glover (NCS), 8-5
#2: Balbuena-Weber (FSU) d. Barragan-Worsley (NCS), 8-5
#3: Raic-Asberg (FSU) d. Nicholls-Strader (NCS), 8-2

NC STATE FALLS TO DUKE
The Wolfpack are now 4-7 after losing to 11th ranked Blue Devils on March 22. The victory for Duke is their 113th straight vs. ACC teams. The doubles play did not take place. Duke improves to 10-4 overall, 1-0 in the ACC and N.C. State falls to 4-7, 0-3 ACC.
Results are listed below.
Duke 6, NC State 0

Singles

1.  No. 30 Kathy Sell, DU def. Loni Worsley, NCSU 6-3, 6-1>
2.  Hillary Adams, DU def. Brie Glover, NCSU 4-6, 6-2, 6-1>
3.  Erica Biro, DU def. Francie Barragan, NCSU 6-0, 6-3
4.  Katie Granson, DU def. Myrna Bawone, NCSU 6-2, 6-4
5.  Prim Siripipat, DU def. Kristen Nicholls, NCSU 6-0, 6-0
6.  Ioana Plesu, DU def. Landis Strader, NCSU 6-0, 6-0



Doubles
Did not play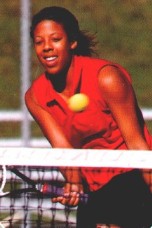 Brie Glover
BARRAGAN HONORED FOR ACADEMIC ACHIEVEMENT
Francie Barragan was honored at the NC State-Clemson basketball game February 27 for being ranked in the top 10 of NC State athletes academically.
MARCH ITA RANKINGS
The March 22 ITA rankings for ACC teams can now be found on this page by scrolling downward. Wake Forest is the highest rated ACC team at number 3.
Duke is ranked 11th. The individual player rankings are also reported. Adria Engel of Wake Forest is the highest rated singles player with a number 4 national ranking. The Wake Forest doubles team of Adria Engel/Bea Bielik leads the ACC with a national ranking of 33rd. The next time these rankings will be updated is March 29, 2000.
Visit the Wolfpack's official women's tennis web site by clicking here.
March 23, 2000 ITA NATIONAL RANKINGS-ACC TEAMS


04.  Wake Forest
11.  Duke
20.  Florida State
27.  Georgia Tech
39.  Clemson
51.  North Carolina
61.  Virginia

March 15, 2000 ITA NATIONAL SINGLES RANKINGS FOR ACC PLAYERS

05.  Adria Engle, Wake Forest
18.  Carmina Giraldo, Clemson 
21.  Megan Miller, Duke
26.  Bea Bielik, Wake Forest
30.  Kathy Sell, Duke
37.  Janet Bergman, Wake Forest
42.  Mariel Verban, Wake Forest
52.  Marlene Mejia, North Carolina
57.  Jackie Houston, Wake Forest
85.  Alida Gallovits, Florida State


March 15, 2000 ITA NATIONAL DOUBLES RANKINGS FOR ACC PLAYERS

23. Adria Engel/Bea Bielik, Wake Forest



Most recent page from the spring season.

1997-98 NC STATE TEAM THE BEST IN SCHOOL HISTORY
Revisit the 1998 spring season here: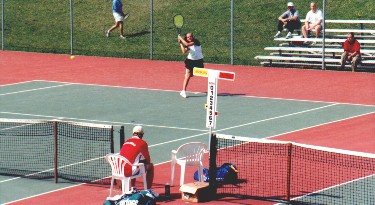 Kristen Nicholls

Visit the Official NC State Women's Tennis Web Site.
Visit the Intercollegiate Tennis Association Web Site for news, rankings, and more!
Any comments? Let me know at the Wolfpack Tennis Fan Page guestbook.

COACH: Kay Louthian
ASSISTANT: Curt Speerschneider

Contact me at battle@boone.net.
---

This page has been visited

times by Wolfpack Tennis Fans.



This 21st Century Tennis site owned by Battle.
[ Previous 5 Sites | Previous | Next | Next 5 Sites | Random Site | List Sites ]